ABOUT APPLICATION
Access Procedure
Please apply for KOFS according to the following procedure.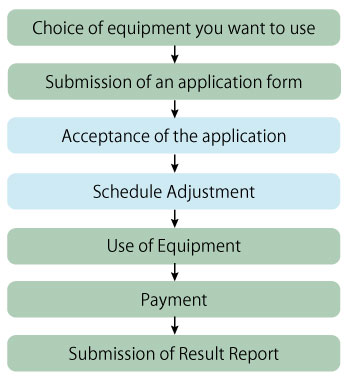 Choose the equipment you want to use (Equipment List)

Fill in an application form and submit it
*If you have any questions, please ask KOFS Administration Office by email (contact)
Receive the acceptance of the application from KOFS administration office

Schedule Adjustment

Come to KCC and use the equipment

Pay the charge of use
Fill in a result report and submit it

Users and Theme
· Intended Users
Students, Researchers, Technical experts and those who related to research and analysis around the world
· Research Theme
No restrictions
Payment of the charge
We have two options to pay:
1. In cash at the accounting office of Kochi University
2. By Bank Transfer
*The details about how to pay will be informed when receiving a confirmation of an application.

Application form
Please refer to the example to fill in this application form.
〇Application form(Word / PDF) Example

Result Report
The details about how to submit will be informed when finishing your usage.