Record Number of Samples Taken from IODP Expedition 323 Cores at the KCC.
IODP Expedition 323 operated during Jul. 5 – Sep 4, 2009 with the aim of reconstructing the Pliocene – Pleistocene paleoceanography and climate history of the Bering Sea.
About 5,700 m of sediment cores drilled from bottom of the Bering Sea during this expedition were stored in the KCC in Oct. 2009. Approximately 30,000 samples were taken from these cores during Nov. 30 - Dec. 9, 2009 by 37 scientists from all over the world for a wide variety of paleoceanographic studies. The KCC staff continued to take samples from these cores over the next couple of months, and a voluntary effort of 12 Japanese researchers and students provided a much needed boost to accomplish the overall sampling goal of the expedition.
By April 22, 2010, all the samples required to be taken from these cores were taken, and the total count of samples stood at about 53,000, which is a record for the scientific ocean drilling program till date.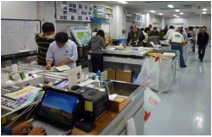 Sampling party at Kochi Core Center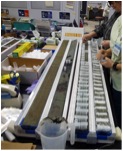 High-resolution sampling of Bering Sea cores