X-ray based analyses

Electron Probe Microanalyzer (EPMA)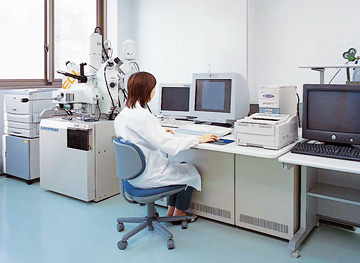 When the surface of a sample is irradiated with an electron beam, it emits X-rays specific to individual elements (characteristic X-rays). By measuring the intensities of characteristic X-rays, the electron probe microanalyzer analyzes the elemental composition of the sample, a microscopic area of the order of 10 µm at a time. It can show the two-dimensional variation of elemental composition across the sample surface by scanning it with an election beam.

The combination of up to 3 wavelength dispersive X-ray spectrometers (WDS) and a newly developed energy dispersive X-ray spectrometer (EDS) analyzer featuring spectral imaging assures the most efficient and accurate analysis of data.
Model
JXA-8200
Manufacture
JEOL Ltd.
Operating condition
SEI resolution
6 nm (@ WD11mm, 30 kV)
Accelerating voltage
0.2 | E30 kV
Beam current
10

-12

| E0

-5

A
Scaning image
SEI, BEI and Topographic images
Analytical method
Qualitative, qualitative, linear, two-dimensional, EDS
Standard sample
Oxide, mineral and rare earth element standard
Sample folder
OMTHL (for thinsection), LH9 (for mini-core)
Lab.
Spectrochemical Analysis
X-ray Diffraction System (XRD)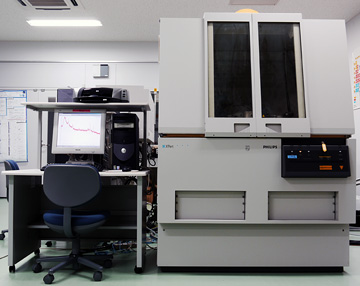 X-ray Diffraction System is useful to identify major and/or clay minerals of rock samples.
Model
X'Pert PRO MPD
Manufacture
Spectris Co., Ltd.
Operating condition
| | |
| --- | --- |
| Detector | X' Celerator |
| Application | X' Pert Datacollector |
| | Eθ angle setting | E/th> | 5° | E75° |
| Sample | Powdered rock (0.1g) |
| Sample changer | 45 samples (Maximum) |
Lab.
X-ray & SEM
X-ray Fluorescence System (XRF)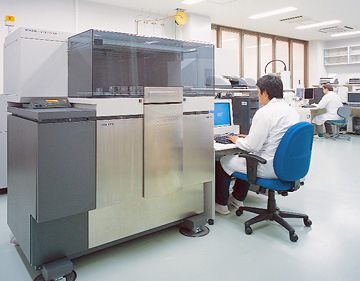 X-ray Fluorescence is useful for measuring chemical composition of rock and sediment samples.
Model
MagiX PRO
Manufacture
Spectris Co., Ltd.
Operating condition
Crystal Changer
Li200, Ge111, PE002, TlAp100 coated
Detector
Flow detector, Xe Sealed detector, Scintilation Detector
Application
SuperQ Manager
Sample preparation
Glass beads (0.5 g of sample + 5 g of Li

2

B

4

O

7

)
Measured element
Fe, Mn, Ti, Ca, K, P, Si, Al, Mg, Na
Measuring time
10 min/sample
Sample changer
60 samples (Maximum)
Lab.
X-ray & SEM